News
The 8 Best Trekking Pole Options, for Everything From Trail to Travel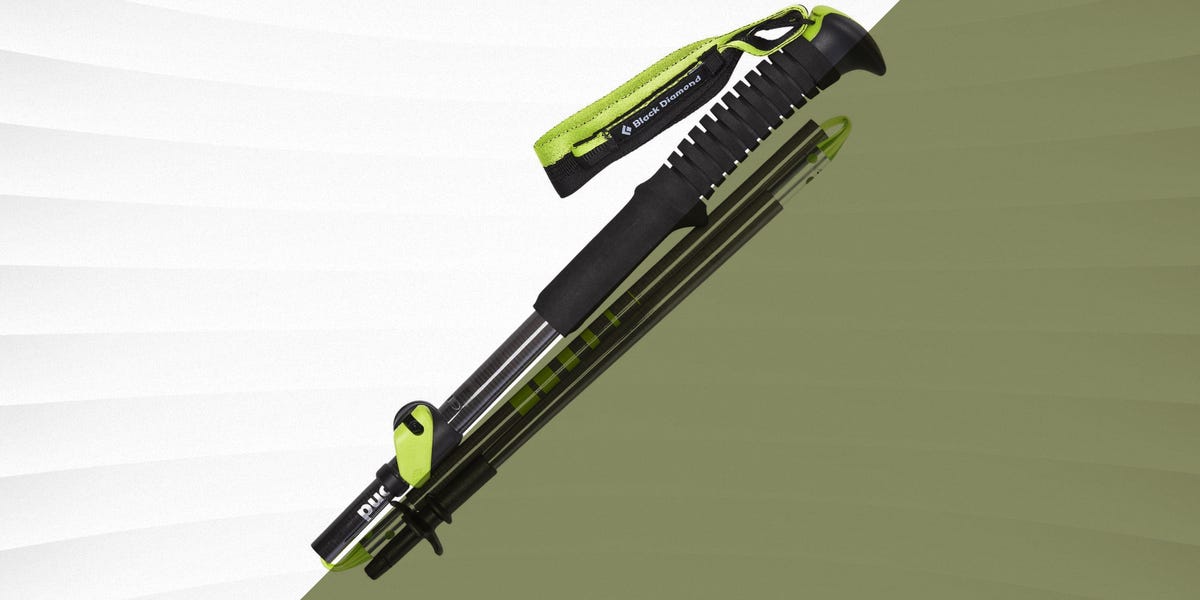 Staff, Courtesy of Black Diamond
The time to start hiking with trekking poles was yesterday. This simple piece of equipment acts as an extension of your limbs, giving you more power and stability on the trails. Furthermore, using poles lessens the impact on your joints and allows you to hike longer and harder. In recent years, trekking poles have even become increasingly popular with trail runners, due to the aforementioned benefits. Additionally, hiking poles can also be used to set up ultralight shelters and tents. Once you start using them, you'll be wishing you had joined the trend years ago.
What to Consider
Though it can be tough to distinguish between different trekking poles, the main factors to consider are the materials used, features included, packability, and weight. Some poles use a standard aluminum material, which is sturdy but heavier. Next, a 7075 aluminum is used in some of the poles mentioned above which is an even stronger aluminum blend. Finally, poles used with carbon fiber are designed to maximize strength-to-weight ratio, so these are the most expensive options.
If you're planning to use these poles year-round, make sure to look for some that come with a variety of attachments, like snow-baskets and rubber tips. Consider weight and packability if you're planning to use these for lightweight backpacking, hiking, or trail running.
How We Selected
It's difficult to discern the intricate differences between various trekking poles. So, we've done all the work for you. Each of our picks shines in a different way, whether you're looking for the lightest and fastest poles or a budget-friendly option that will last for years.
In order to select which poles we've featured, we whittled down the field by comparing each option's versatility, strength, and price. From there, we narrowed down our picks to those with the top user reviews and cross-referenced each option with popular gear websites like Outdoor Gear Lab and Backpacking Light. Finally, we arrived with eight solid choices for everyone from ultralight backpackers to beginning kiddos.
Advertisement – Continue Reading Below
1
Best for All-Around Trail Use
Legacy Lite Core-Tec Trekking Poles
The Legacy Lite Core-Tec poles by Leki are your go-to, all-around trekking pole that can be used anywhere in the world. Leki uses a 7075 aluminum shaft which is equal parts lightweight and sturdy. Though aluminum isn't as light as carbon fiber, the extra strength makes these poles versatile enough for use from local trailheads to trekking in Nepal. 
The cork handles are extremely comfortable, and the wrist straps are designed to wick away moisture so you don't become uncomfortable holding the poles all day. Finally, the poles include interchangeable baskets to keep you steady whether you're in mud, sand, or snow.
Lightweight and sturdy
Carbide flex-tips are usable on varied terrain; will last for years
Poles collapse down to 26.7 inches
Not as lightweight as poles made with carbon fiber
2
Best Budget Aluminum Poles (Under $30)
Cascade Mountain Tech Trekking Poles
Cascade Mountain Tech
amazon.com
$22.99
If you're unsure of how much or how often you will use trekking poles, it's wonderful to have a budget-friendly option. But sacrificing quality is a surefire way to create more problems than there were before.
The Cascade Mountain Tech aluminum poles are the cheapest fully featured option on the market. They come with interchangeable tips and have a quick-lock mechanism; a serious upgrade from their previous twist-lock model. Furthermore, you can choose between a cork or EVA foam handle depending on your preferences.
Comes with different tip options for various terrain
Budget-friendly
Adjustable height with quick-lock mechanism
Aluminum material is not as lightweight as more expensive options
3
Best Budget Carbon Poles (Under $70)
Cascade Mountain Tech Carbon Trekking Poles
Cascade Mountain Tech
amazon.com
$62.99
Carbon fiber is a popular material for trekking poles as it's incredibly strong yet still lightweight. However, this upgrade does make them a more expensive option. 
Cascade Mountain Tech still keeps the cost of their carbon poles comparably low, while they're about half the weight of their aluminum poles. This is extremely helpful for lightweight backpacking or trail running, where you may not need your poles all the time and want to store them quickly and easily.
These are just as strong and light as comparable carbon fiber poles—however the two-shaft design will not collapse as small as three-piece trekking poles.
Uses strong and light carbon fiber material
Adjustable height with quick-lock mechanism
Cheapest carbon fiber poles available
Two-section design does not collapse as well as a three-section design
4
Best for Snow-Shoeing / Winter Use
Mountain Smith Halite 7075 Trekking Poles
Mountainsmith
rei.com
$79.95
If you've ever been snow-shoeing, you know how important poles are. In deep powder trekking poles provide an excellent amount of extra stability and can act as "testers" before plunging into a deep snowy field. However, when hiking or snow-shoeing in the snow, it's important to still have adjustable poles as opposed to using set-height ski poles.
The Mountain Smith Halite 7075 poles are built with a strong aluminum shaft that won't break even in deep powder. Furthermore, they collapse very small for easily stashing into your pack.
Four collapsible sections for easy portability
Snow and hiking baskets included for winter adventures
7075 aluminum is extremely strong
Heavy for lightweight hiking and backpacking
5
Best for Kids
REI Co-op Kid's Trekking Poles
Hiking with little ones in tow? Trekking poles are a great way to increase your kids' confidence on the trail and introduce them to the skills needed for a lifetime of outdoor activity. 
The REI Co-op brand Kid's Trekking Poles are sized to grow as your kids do, fitting all the way up to a roughly 5-foot-5-inch person (sizing varies by body shape). They're easily adjustable and constructed with a sturdy aluminum shaft that can take extra wear and tear.
Adjustable length means you won't have to replace gear as your kids grow
Durable and easy to use
Lever lock may loosen over time
Don't compact very small
6
Best for Ultralight Trail Running or Backpacking
Black Diamond Distance Carbon AR Trekking Poles
Black Diamond
rei.com
$189.95
Crushing miles over high mountain passes and rocky alpine areas is made much easier with these ultralight, fully-featured carbon poles from Black Diamond. The poles lock into place and adjust easily. This is extremely helpful with encountering varied terrain, as you want the height of your poles to change with the grade of the trail. They also come with interchangeable tech tips, to suit what kind of trail you are on. If you're an ultralight backpacker, these are built to pair with Black Diamond's UL shelter. If you're a skier, these poles pair with powder baskets to help you crush powder days.
Extremely lightweight yet durable
Adjustable in length and packable (three-piece)
Versatile; they're built to pair with Black Diamond's ultralight shelter for lightweight backpackers
Ski-compatible
7
Best for Everyday Walking
TheFitLife Nordic Walking Trekking Poles
TheFitLife
amazon.com
$24.98
If you are looking for a bit of extra support on casual walks and local day-hikes, you don't need the lightest or most expensive trekking poles. TheFitLife Nordic poles are everything you need for $25. They're constructed with a shock-absorbing aluminum, which drastically reduces impact on your body. Furthermore, they're extendable and collapsible, so bringing them along with you is always a no-brainer. Though the aluminum design isn't the lightest option, they're sturdy enough to handle even hard ground like asphalt. They also come with different covers for the pole tips, for different conditions.
Budget-friendly, come with tip options for various terrains
Adjustable height and collapsable
Sturdy aluminum design
Twisting adjustable design is prone to deterioration
8
Best Hiking Staff
REI Co-op Hiker Power Lock Staff
Oftentimes, one trekking pole can have very similar benefits to using two poles. If you prefer only to use the extra support on more technical trails, then using a single staff may be best. The REI Power Lock Staff provides extra support while traveling on rugged or rocky terrain, while leaving one hand free to catch any slips. Furthermore, the weight and price are automatically cut in half when you bring along just one. It also can be used as a camera monopod, making this a popular choice amongst photographers.
Aluminum construction is sturdy for technical traveling
More packable and lightweight than a pair of poles
Doubles as a camera monopod
Less versatile than having a pair of poles
This content is created and maintained by a third party, and imported onto this page to help users provide their email addresses. You may be able to find more information about this and similar content at piano.io
Advertisement – Continue Reading Below
Most Related Links :
thereliablenews Governmental News Finance News